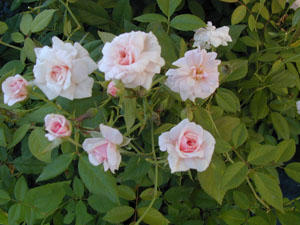 Cultivar: Cecile Brunner

| | |
| --- | --- |
| Classification | Polyantha |
| Year Introduced | 1881 |
| Size Category/Growth Habit | Small shrub |
| Height | 4 feet |
| Width | 3 feet |
| Spacing | 5 feet apart on centers |
| Color | Light pink |
| Bloom | Clusters of perfectly formed, high centered, pointed buds open to double blooms. Successive flushes of bloom spring, summer, and fall. |
| Fragrant | Yes |
| Planting Site | Full sun is best but will tolerate some light dappled shade in the afternoon. Good air circulation. |
| Water Use | Keep moist until established (usually requires one month to establish). Average water needs during growing season. |
| Cold Hardiness | Hardy in zones 5-9 |
| History | Cecile Brunner was developed in France by Joseph Pernet-Ducher and introduced in 1881. It is a cross of Mignonette and a Tea Rose named Madame de Tartas. It was named after the daughter of Swiss Rosarian Ulrich Brünner. |
Cecile Brunner, also known as Mme. Cècile Brünner and The Sweetheart Rose, is a bush rose that grows to 4 feet. It blooms profusely in the spring and then continues to bloom until frost. Blossoms are a soft silvery pink and look like a hybrid tea in miniature. They appear in clusters and have a sweet fragrance. This is one of the best loved and easiest to grow rose varieties.
Landscape Uses
Works very well as a mannerly specimen or as a mid-range plant in a rose bed, with drifts of annuals and/or perennials in front.