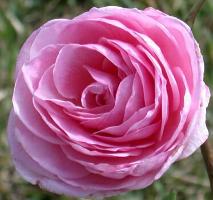 Cultivar: Belinda's Dream

| | |
| --- | --- |
| Classification | Shrub rose |
| Year Introduced | 1992 |
| Size Category/Growth Habit | Medium shrub |
| Height | 5 feet |
| Width | 5 feet |
| Spacing | 7 feet apart on centers |
| Color | Medium pink |
| Bloom | Very double, 100+ petals, up to 4″ diameter. Successive flushes of bloom spring, summer, and fall. |
| Fragrant | Moderate |
| Planting Site | Full sun, good air circulation |
| Water Use | Keep moist until established (usually requires one month to establish). Average water needs during growing season. |
| Cold Hardiness | Hardy in zones 5-9 |
| History | Bred by Dr. Robert Basye, Texas, USA. Parentage is 'Jersey Beauty' x 'Tiffany'. |
Introduced in 1992, this gorgeous shrub rose was developed by Dr. Robert Basye, a mathematics professor at Texas A&M University and named after the daughter of one of his friends. Belinda's Dream is disease tolerant and has gorgeous flowers. Used as a specimen plant, a hedge or even in a large pot, this rose has the impact and beauty of a modern hybrid tea, but is much more disease and soil tolerant. It was the first rose to be designated Earth-Kind® by the Texas AgriLife Extension Service. The large, very double pink blossoms come in large clusters from spring until frost. Bred in Texas to withstand hot temperatures, it does well in temperate climates as well. It may have some blackspot in cool, damp weather, but its vigor and blooming will not be affected by the disease. Light pruning improves appearance and blooming frequency.
Landscape Uses
Belinda's Dream is a wonderful rose to plant if you only have room for one rose in your landscape. It makes a lovely centerpiece in the garden surrounded by annuals or low growing perennials. To really appreciate the beauty of this rose it should be viewed up close in order to truly marvel at the outstanding size, beauty and fragrance of the blossom. This rose is an excellent selection if you are looking for a rose that can be used as a cut flower to arrange in vases and display indoors. This rose should be planted on 7 foot centers to allow for adequate air movement. Belinda's Dream also makes a beautiful large container planting.